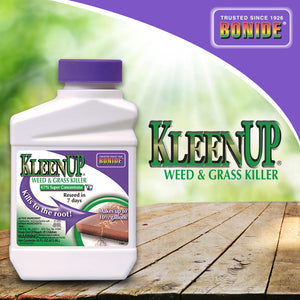 KleenUp® 41% Weed & Grass Killer Conc
KleenUp is designed for systemic control over a wide variety of weeds and grasses. Made with 16.5% glyphosate, this product is effective on broadleaf and grassy types of weed. With just one quart, you can treat up to 6,300 square feet.

Kills grasses, weeds, and brush down to the root
Safe to reseed treated area in just 7 days
Can also be used to kill tree stumps and vines
Kills nearly any vegetation down to the root
41% SUPER concentrate
Concentrate pint(16oz) Mix 1.5-2.5 oz. per gallon
KILL UNWANTED WEEDS - KleenUp Concentrate kills all unwanted weeds and grasses.
41% GLYPHOSATE - One of the most widely used herbicides in the United States, this product contains 41% glyphosate, so it is very effective. This allows the product to attack broadleaf and grassy types of weeds.
SYSTEMIC HERBICIDE - This product easily rids your lawn, driveway, flower beds, and more of invasive weeds. It is a systemic herbicide, so it kills to the roots of the plant for total control of the weeds.
RAINPROOF AFTER 6 HOURS - After just 6 hours from application, rainfall or watering will not wash away the effectiveness of this product. Hard-to-control weeds and grasses (such as bermudagrass) may require a repeat application in 10 to 14 days.
6,300 SQUARE FEET OF CONTROL - With just one pint of this spray, you can treat up to 6,300 square feet of your lawn, garden, driveway, fencing, and more.
---
We Also Recommend