DIAMOND CRYSTAL POTASSIUM CHLORIDE FOR WATER SOFTENERS
A Low-Sodium Alternative to Traditional Water Softener Salt.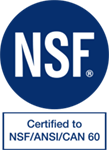 Potassium Chloride, Salt Alternative, for Water Softeners is a low-sodium alternative to traditional water softener salts. Made with typical 99.1% pure potassium chloride, these crystals contain low insoluble content to keep your water softener running smoothly. Diamond Crystal® Water Softener Potassium Chloride is recommended for all kinds of water softeners.
Potassium Chloride works in water softeners the same way that traditional water softener salt (sodium chloride) does, by replacing hard water minerals. The primary difference is that hard water minerals are replaced with potassium instead of sodium.
Uses a Salt Substitute: Potassium Chloride
Removes hard water minerals just like salt
Minimize accumulation tank residue
NSF®

 

Certified to NSF/ANSI/CAN 60
Size Availability
40 lb. Bag
 
Diamond Crystal® Salt: A Brilliant Choice® since 1886.
---
We Also Recommend